Albertacampsites.com is a website fully dedicated to camping and Alberta campgrounds. Each year, our website popularity grows by leaps and bounds and is considered a great source of information about camping, campgrounds in Alberta. Since 2010, we've had well over 724,000 hits to date on our website.
In 2013 we had 211,987 hits to our site! Awesome!
In 2014 we had 267,327 hits to our site! Awesome!
In 2015 we had 294,811 hits to our site! Awesome!
Our highly-focused proprietary content attracts campers of all ages allowing us to deliver ad programs directly to your potential clients. As you may know, web advertising delivers the most convenient (action) of any advertising medium.... one click is all that separates a potential customer from your products or services.
Banner advertisement
We currently offer 7 types of banner ad locations. Home page banners (shown on our home page), Side Bar Ads, Campground Page Ads, Dealership Page Ads, Reviews Page Ads, Logout Page Ads, and Search Page Ads. Note that our banner ads are rotating and include a DirectLink to your own website.
We offer advertising spots on our website $50.00 per location or all 7 locations for the price of 6.
Current pricing:
1) $500.00 for a 1 year term.
We have 7 main areas to advertise on our website, with some examples below.
1) Main Page Advertising (Only the Main page) This cycles through ever advertiser.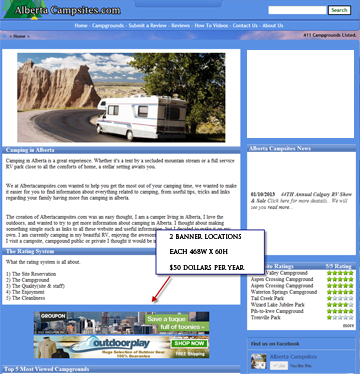 2) Right Lower Side Bar (On every page) This cycles through ever advertiser.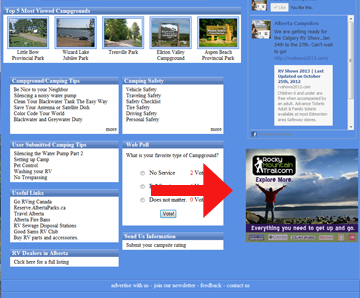 3) In the Campgrounds List (On every campground list page) Currently 61 pages of Campgrounds 2 banners per page rotating.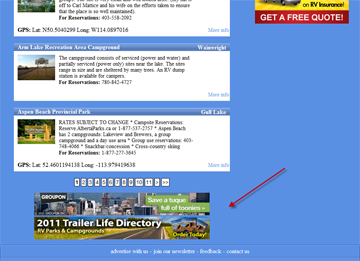 4) Search Page (On every search) This cycles through ever advertiser.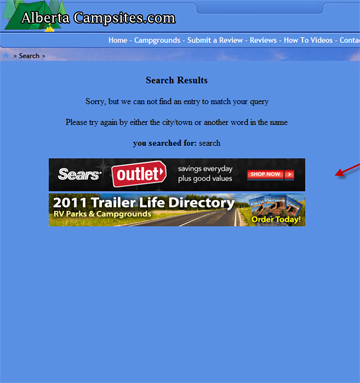 If you require more information please go to our contact form and send us a message
Banner specs:
Listed below are our generic banner specs. The rates are based on these specs. Larger banner size can be accommodated for a nominal fee. We accept both static and animated banner ads. floaters ads are not accepted.
• File format: JPG, PNG
• No Flash Media
Front Page advertisement
We offer front page advertisements on our website to accommodate you. We allow campgrounds and businesses related to camping to advertise their product in two different ways on the main page.
1) Static image of your choosing with the size of 600 x 288

or
2) Mutiple rotating images with the same size requirements.

All for the low cost of $100.00 per month.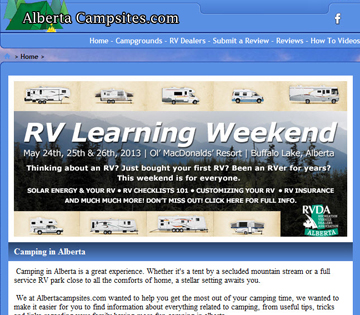 Terms and conditions
Albertacampsites.com reserves the right to refuse any banner advertisement request (including any image or text). Albertacampsites.com reserves the right to cancel a banner at any time without prior notice and without liability other than a pro-rated refund based upon the total amount of the payment received and the elapsed time since activation.
Banner rates are $50.00 per 6 month term, per location and are subject to change. Banners will not be activated until payment is received in full by Albertacampsites.com. Payments can be made via PayPal or via a credit card in Paypal or Company Check on approval of Albertacampsites.com. Once your banner is activated, you will receive a notification email. Banners are normally activated within 24 hours of payment reception. If for some reason your banner cannot be activated within this timeframe, you will be notified.
Albertacampsites.com reserves the right to modify the banner image received if it doesn't meet size restrictions. If changes are required, Albertacampsites.com will do its best to maintain the image's integrity and quality.
Advertisers assume joint liability for all content (including text representation and illustration) of advertisements, and assume responsibility for any claims against Albertacampsites.com resulting from the ad, including costs associated with defending such claims.
Advertisers who cancel during the course of a campaign will not receive a refund as adversiments are based upon the 6 month term or agreed upon time frame and are subject to your loss based on your cancellation.
These terms and conditions shall apply to all advertising accepted by Albertacampsites.com. These terms and conditions supersede any Albertacampsites.com contract clauses not specifically acknowledged above. For additional information or inquiries, please send an e-mail to info@albertacampsites.com